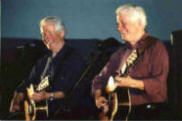 Rick and Ron Shaw, professionally known as The Shaw Brothers, have been performing together for more than 40 years. During that time, they were also members of such successful musical acts as The Brandywine Singers, The Hillside Singers (who recorded the smash hit, "I'd Like To Teach The World To Sing"- also known as "the Coca-Cola song"), and The Pozo-Seco Singers. As such, they have recorded more than a dozen albums for such labels as RCA Records, Columbia Records, Metromedia Records, Mainstream Records, Joy Records, Diplomat Records, and their own label, Brandywine Records. Their newest recordings may be found on Folk Era Records.

Identical twin brothers, born and raised in New Hampshire, The Shaw Brothers got their musical start while undergraduates at the University of New Hampshire in the early 1960's. They began performing at on-campus functions such as dances and fraternity parties and were soon being invited to perform at other campuses throughout New England. Joining forces with other classmates - Dave Craig, Hal Brown and Fred Corbett - they formed a group called The Tradewinds and, in 1962, walked away with top honors at the first National Inter-Collegiate Music Competition held at Lycoming College in Williamsport, Pennsylvania.

Encouraged by the success of their efforts thus far, the group decided to remain together that summer and see what inroads they could make into the world of show business. An important break came a few months later when they appeared at the prestigious Hampton Beach Casino and were heard by a prominent booking agent named Charles Kearns. He loved what he saw and heard and from that point on the group was off and running. Before very long they had a manager, a New York booking agency, a record label and were poised for stardom. They also had a new name, The Brandywine Singers.

Their first single recording, "Summer's Come and Gone." was released that fall to be followed by two albums and several singles. During this period, two members left and were replaced by two more - Van Dyke Parks and Les Clark. In the next four years, The Brandywine Singers performed at more than 350 colleges and universities throughout the United States and Canada, as well as most of the major night clubs, state fairs and festivals from coast to coast. Other highlights were touring with the Johnny Mathis Show, and appearances on such network TV shows as the Mike Douglas Show, the ABC Hootenanny Show, and the ABC Wide World of Entertainment.

The Brandywine Singers broke up in 1966 when Rick was drafted and Ron joined the successful Pozo Seco Singers on Columbia Records. Ron left the group two years later, about the time Rick was returning from the service. Both brothers taught school for a year, Ron in New Hampshire and Rick in Rhode Island, before deciding to give show business another try, this time as The Shaw Brothers.

In the fall of 1971, the brothers received a call from producer Al Ham, who wanted to put together a group to record the now famous Coca-Cola jingle, "I'd Like To Teach the World To Sing, " which he felt could be a popular song. The group became The Hillside Singers and the record one of the biggest international hits of all time. Rick and Ron performed with The Hillside Singers for nearly two years before receiving their next and biggest break thus far.

In the spring of 1974, they were contacted by renowned record producer Milt Okun, and offered their own contract with RCA Records. Naturally, they jumped at the chance and in August of that year, traveled to London, England, where they recorded the album, "The Shaw Brothers - Follow Me". They have remained a duo ever since.

The Shaw Brothers have performed with such major stars as Bob Hope, Ed McMahon, Della Reese, Buddy Greco, Joan Rivers, Johnny Mathis, Eva Gabor, Bill Cosby, Judy Collins, Josh White, Oscar Brand, Mama Cass Eliot, the Kingston Trio, the New Christy Minstrels, the Brothers Four, Mary Travers, Tom Paxton, John Denver, Don McLean, Tommy Makem & Liam Clancy, Jud Strunk and Marshall Dodge, to name a few. They continue to crisscross the country on concert tours, playing to enthusiastic audiences wherever they go. The brothers have also attracted a large following abroad, having performed in such places as Canada, Great Britain, Japan, South Korea, and Hong Kong. In 1978, while on a three-month tour of Japan, they were invited to perform before their Imperial Highnesses the Prince and Princess Hitachi.

The Shaw Brothers are songwriters as well. Their songs have been recorded by other major artists. Rick's composition, "The Day the Tall Ships Came", was used as the theme song for Operation Sail '80 in Boston during the city's 350th Birthday Celebration, and a more recent composition, "New Hampshire Naturally", has been officially designated as a state song. Recently, they were commissioned to compose and perform a special song for a segment of television's "Candid Camera".

The late Governor of New Hampshire, Hugh J. Gallen, presented the brothers with an official proclamation in which he referred to them as "...New Hampshire's musical ambassadors to the world," and former Governor John H. Sununu honored them with a personal commendation for their many contributions to the arts and for maintaining "...the true spirit of New Hampshire throughout their impressive careers," and for being "...positive examples of the classic character and values which are New Hampshire."

Accompanying themselves on a variety of instruments, The Shaw Brothers serve up their own unique blend of traditional and contemporary music interspersed with humor, poems and stories. With their delightful wit and easy charm, they establish a quick rapport with audiences of all ages. The result is entertainment at its best.
For more information about the Shaw Brothers please visit: www.theshawbrothers.com

©2007 Traveling Troubadour, L. L. C.