Experience the Thrill of St. Patrick's Day in Ireland!
Immerse yourself in true Irish culture as we explore this magical Emerald Isle

March 14 - 22, 2014!

Incredible scenery, fascinating history and warm, friendly people await you as we travel off the beaten path and discover the real gems of Ireland's heritage!
Joining us on this tour will be Geocacher, "MaxB on the River"!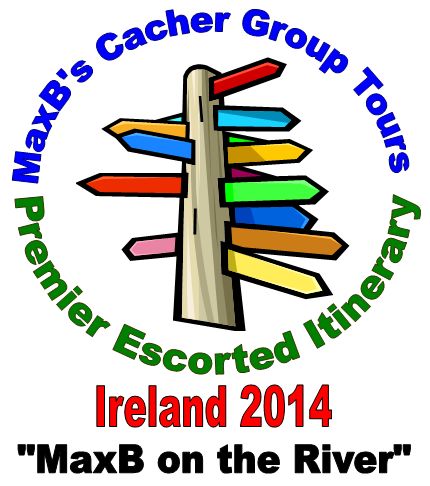 (Geocaching is an outdoor adventure hobby first played in May, 2000. Participants use a GPS receiver or other navigational techniques to hide and seek containers, called "geocaches" or "caches", anywhere in the world. The appeal to many in this hobby is in searching for caches that will take them to fascinating places that they might otherwise overlook!)
Maxine & Warren of "MaxB on the River" have used their expert geocaching skills to help us put together a very special custom itinerary that will take us off the beaten path to some of Ireland's hidden gems! We will visit the favorite sights you have heard about, as well as some you will not visit on other tours!
Our tour starts with three nights in one of Europe's most popular cities, Dublin! While here we will visit the Guinness Storehouse for a peek at the makings of this world famous brew and the perfect bird's eye view of this famous city from the top. We will have the opportunity to visit the first Geocache in Europe, Ireland's most favorited, and learn about the history of this seaside area! On St. Patrick's Day we will enjoy the grand St. Patrick's Day parade from reserved seats, along with all the festivities of holiday time in this fun city! The next day our travels take us south from Dublin through County Wicklow and into the peaceful ambiance of small villages. We will visit Cobh and it's heritage center, which depicts emigration from Ireland to the US during the Great famine of the mid-1800s. Our overnight in Cork will give cachers an opportunity to explore on their own. Then we will make a stop to kiss the Blarney stone on our way to Killarney. From Killarney we will experience a full day tour of the famed Ring of Kerry. The next day our morning departure from Killarney has us heading north by way of the Tarbert Ferry on our journey to the majestic Cliffs of Moher. We overnight in Limerick, and we will take part in a Medieval Farewell Banquet in a 600 year old castle in nearby Bunratty!
All along the way, "MaxB on the River" has found caching opportunities & suggestions that will take us to the heart of this magical land on a tour you will never forget. Irresistibly Irish and endless fun... from the heart of Dublin to Blarney Castle to the Cliffs of Moher... and more!




Land Package Includes:
· Transport by deluxe motorcoach with a professional Irish driver/guide
· Hotel accommodations for 7 nights
· Full Irish Breakfast Daily (except day of arrival)
· Grandstand tickets for St. Patrick's Day Parade in Dublin
· Admission into: Guinness Storehouse, Hook Head Lighthouse, Blarney Castle, Cobh Heritage Center, Cliffs of Moher
· Tarbert Ferry
· Medieval Banquet at Bunratty with entertainment
· Custom itinerary with geocaching opportunities and suggestions for your own geocaching adventure
· Hotel tips and taxes throughout. (Except tips to your personal Driver/Guide)
· Hotel porterage of one suitcase per person
Itinerary
Day One – 3/14/14 - Friday Depart US
Tonight we begin our Irish journey as we board our jet bound for the Emerald Isle. If you have selected the optional group air flight you will enjoy getting to know our group as we make our way from Newark, NJ to Dublin, Ireland!
Day Two – 3/15/14 - Saturday
Dublin

Cead Mile Failte! One Hundred Thousand Welcomes! Upon clearing customs, we will be met by our Professional Irish Driver Guide and escorted to our deluxe motorcoach. En route to our hotel we enjoy a panoramic orientation tour of Dublin. You will be sure to see St. Patrick's Cathedral where writer Jonathan Swift gave his sermons, The G.P.O. on O'Connell Street, scene of the 1916 Easter Uprising where the bullet holes still remain to this day. We will pass by Trinity College which houses the 8th century manuscripts, The Book of Kells, still preserved as they were when the Monks produced them all those centuries ago. Our group will enjoy a visit to the Guinness Storehouse for a peek at the makings of this world famous brew. You will have free time this afternoon to explore this 1000-year old city and cache as you go. Within a mile of downtown and our nearby hotel you can hunt for over 100 caches, many of them cacher's favorites. This evening we are planning a possible event with local cachers.

Day Three – 3/16/14 - Sunday Dublin, Bray, Greystone Cliff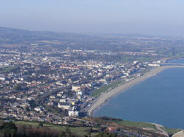 After breakfast we enjoy an included optional side trip to Bray, and an opportunity to do some geocaching! The 1.5 miles round trip walk will take you to Europe's First Cache. You may wish to spend some time in Bray, exploring it's history and local caches before our bus takes us on to Greystone for more caching. Bray's town history predates Norman times, when Strongbow granted lands on behalf of the Crown, to Sir Walter de Riddlesford, circa 1171. Thanks to the arrival of the railway in 1834, the bustling town developed as a popular seaside resort and became known as the "Brighton of Ireland"! For the adventurous cachers, you might decide to walk the Bray to Greystone Cliff Walk - which is 5 miles - but includes Europe's First Cache and several others. If you wish to remain in Dublin, the streets will already be abuzz with St. Patrick's Day celebrations!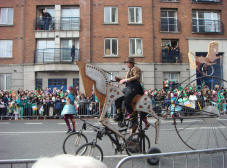 Day Four – 3/17/14 - Monday ♣ St. Patrick's Day! ♣
Today is a very special day – St. Patrick's Day in Dublin! After breakfast we are transferred to the Parade Route to our reserved Grandstand Seats to see this world famous event. The rest of the day you are free to enjoy. This is among the best St. Patrick Day celebrations in Ireland! As it is a national holiday, all businesses and major stores are closed, but there will be a lot going on. The atmosphere will be one of high spirits and great fun.
Day Five - 3/18/14 - Tuesday Dublin - Hook Head - Cobh - Cork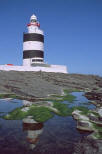 After breakfast we depart Dublin and head south through County Wicklow, "The Garden of Ireland". We pass through the Vale of Avoca onwards to Wexford for a tour of the beautiful South Wexford coastline, past Loftus Hall where the devil appeared during a card game. Then on to fabled Hook Head which sports one of the oldest working lighthouses in the world. We enjoy a visit at the Hook Head Lighthouse with time for some geocaching and/or a bite of lunch! Next it is on to the Cobh Heritage Center which depicts emigration from Ireland to the US during the Great Famine of the mid-1800s. Tonight we will stay in nearby Cork!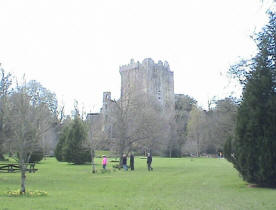 Day Six-3/19/14 - Wednesday Cork - Blarney - Killarney
After breakfast we enjoy time in Cork for Geocache visits or to relax and explore the area! Then it is on to Blarney with its fabulous Woolen Mills and 14th century Kissing Stone! This afternoon we will continue our journey to Killarney. Sites of interest in the town of Killarney reflect its strong religious and educational history. Killarney was a monastic settlement from the 5th or 6th century and house settlement began here from around 1500. Explore colorful laneways, a fine cathedral and experience the ambience of busy streets in the town centre. Nestled amidst deep, lake filled valleys with astounding sights such as the famous Ladies' View (Named after Queen Victoria's Ladies' in Waiting) and the MacGillicuddy Reeks – Ireland's largest mountain range, home of Carrauntoohil, the country's largest peak. Killarney itself is a lively hub of activity. We will spend our first of two nights in Killarney!
Day Seven-3/20/14 - Thursday Ring of Kerry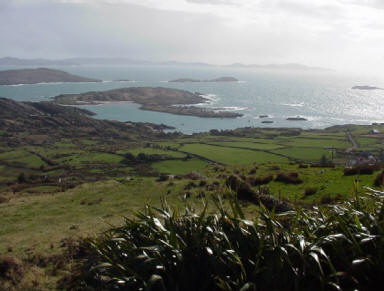 After breakfast we depart Killarney for a full day tour of the famed Ring of Kerry! There is an unspoiled nature to Ireland's most beautiful region and the Ring of Kerry provides many unforgettable memories as it passes through the many picturesque villages such as Glenbeigh, Waterville and Sneem and returns via Ladies View and the famous Lakes of Killarney. We will have stops along the way to visit caches as time allows. Our circle back to Killarney from the Iveragh Peninsula will pass through Kenmare and Molls Gap. You will want to be sure to visit one of the three Lakes of Killarney: Lough Leane, The Upper Lake, and The Lower Lake, which is near the town. Tonight we will enjoy another stay in Killarney!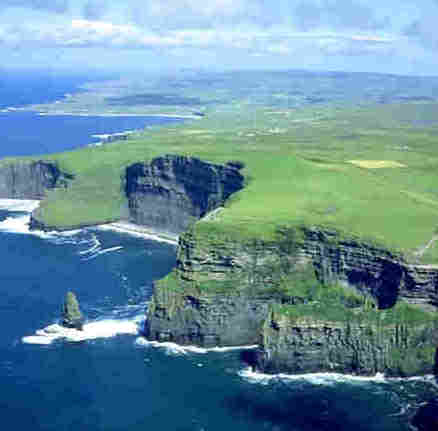 Day Eight-3/21/14 - Friday Killarney - Cliffs of Moher - Bunratty - Limerick
Our morning departure from Killarney has us heading north. We take the Tarbert Ferry from County Kerry to County Clare on our way to view the majestic Cliffs of Moher. The Cliffs rise 700 feet and stretch out along the very rugged Atlantic Coastline for five miles. You'll have the opportunity to complete the "Cliffs of Moher" Earthcache while visiting the area.
We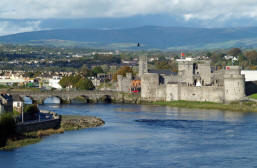 will overnight tonight in Limerick, Ireland's 3rd largest city and home to author Frank McCourt, who wrote Angela's Ashes. Limerick is an area steeped in history. The origin of Limerick city dates back to the 9th century, a site settled by the Vikings. Limerick City is known as "City of the Broken Treaty", due to the treaty which was signed surrendering the city to William. The terms of the treaty, which included respect for the rights of Catholics, were immediately breached. The treaty was signed on the Treaty Stone, which can still be seen today. King John's Castle is a fortified 13th century Castle on "King's Island" in the heart of medieval Limerick. The castle, overlooking the river Shannon, opens an exciting window on the lives and stories of the people through political upheaval, war and famine. Archaeological excavations open to the public roll back the mists of time to pre-Norman houses which predate the castle by 100 years, as well as siege mines, garrison and soldiers quarters and sallyport all found under the level of the present courtyard. The castle itself features an imaginative exhibition spanning the castle's history.
We travel to nearby Bunratty with its 600 year old Bunratty Castle and adjacent folk park. Be sure to visit "Durty Nellie's Pub" which has been serving up the locals for over 300 years. This evening we enjoy a special Medieval Farewell Banquet at Bunratty with entertainment! Our deluxe motorcoach will transport us back to modern times as we make our way back to Limerick for a good nights sleep before tomorrow's journey home.
Day Nine-3/22/14 - Saturday Limerick - Shannon Airport - USA
Sadly, today our Irish vacation has come to its final day. We will transfer to the Shannon Airport in good time to check in for our flight. In the true Irish tradition, Ireland wishes you a "Safe Home". We will arrive home the same day with fond memories and new friends!




Land Cost
9 days - Only $1795.00 per person double
Single Supplement $550 (Very limited)
(Please let us know if you are single & would like to room with someone by noting it in the comment box on the online reservation form!)
Join the group in Newark, NJ for our overseas flight to Dublin (return from Shannon)!
Roundtrip Air - Only $895 per person!
(Extremely Limited Availability)

Trip Insurance is available and recommended
(Trip cancellation insurance covers cancellation prior to your trip due to illness or death of self, roommate or immediate family (not aunt, uncles or cousins).
Immediate family members traveling together, living at the same address, must each purchase insurance to be covered.)

PAYMENTS:
A $350 per person deposit ($450 if air is selected) is required for space confirmation. Final payment is due January 8, 2014.
The deposit is refundable if cancelled before December 1, 2013.
CANCELLATIONS:
All cancellations must be received in writing.
Cancellation Penalties (Please consider the trip insurance)
December 1, 2013–January 8, 2014....$350 deposit
January 9, 2014 - Day of departure/no show......100% penalty (No refund)
DOCUMENTS:
All travel documents will be sent approximately 2 weeks prior to departure.
PROOF OF CITIZENSHIP:
All U. S. passengers must carry a passport valid for 6 months past the last date of travel.
Passengers who are denied entry to aircraft or foreign country due to improper documents are NOT entitled to a refund.
This tour is not suitable for children under 16.
Space is very limited. Please reserve today!
Click Here for Reservation Sheet to print and mail or fax
Questions? Call Lynette at (540) 887-8491 or (800) 584-6724

Traveling Troubadour Facebook Page MaxB on the River Geocaching Facebook Page